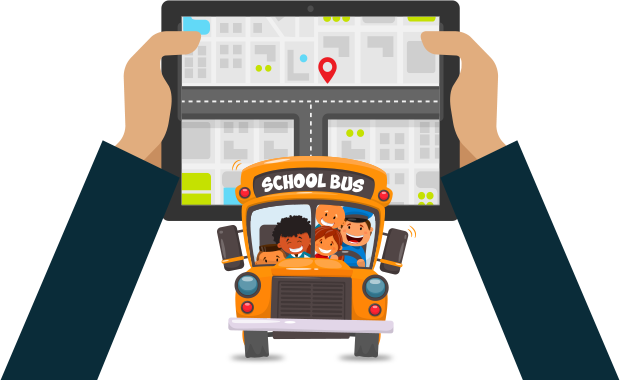 NrXen works as a professional advisor helping its customers figure out suitable solution to match up with their requirements.
We are listing our products usage as per our focused industries below
A. Educational Institutions:
Our advanced tracking and monitoring solution helps in precise real time tracking of school vehicles, and gives management overview of all the vehicles fitted with our tracking device, both on web based console and smart-phone app. The myriad ways in which Parents and school authorities can be benefited are:-
Get bird's eye view of the exact location of all the school vehicles.
Identify misused vehicle, unauthorized behavior, or excursion into areas that the vehicle does not belong.
Avoid waiting at bus stops as parents are alerted about the expected time of arrival of the school bus when the bus starts its journey.
Get speed exception report, delay notification, and emergency alert.
Easy dynamic vehicle-route reassignment in case of breakdown.
Better accountability to parents.
Improved safety ensured by monitoring operation and alerting to unsafe activities.
How can parents benefit from our smart tracking and monitoring solution?
Our specially designed 'my school bus' app will help parents in real time tracking of their ward's school bus.
They will get instant real-time updates on the location and status of the school bus, unscheduled bus stops, school bus delays, over speeding, or other emergencies.5
Parents will get alerts in the form of Android push notifications, SMS, or iOS notifications.
No need of calling driver to find vehicle location.
Parents will receive proximity alert whenever the school bus is near the pick up/drop off point.
Video surveillance solution will help parents to monitor their children activities during transit from anyplace. Cameras installed in school bus captures audio and video of exactly what is happening inside the school bus and let drivers keep their eyes on the road.
How can educational institute authorities benefit from our smart tracking and monitoring solution?
Manage all vehicles from single panel.
Our GPS based advanced tracking solution will help school authorities in precise real time tracking of all their transportation assets.
Reports on travel speed, travel distance and travel history will help in effective conveyance management.
As school buses will remain under constant real time observation School authorities will be able to track location, speed, unscheduled halt, delay due to traffic jam or any other unforeseen situation and idle state of the school buses
Our smart tracking solution comes with an added safety feature known as 'Geo-fencing'. Application of Geo-fencing technology will allow you to restrict your movable assets to a virtual geographical boundary.
Geo-fencing helps you to monitor whether school bus drivers are adhering to the assigned route parameters and safety requirements.
Helps in analyzing driver's performance.
B. Corporate Fleet Management companies:
Managing your business, effective handling of clients, regular monitoring of umpteen numbers of vehicles on move, may seem to be a big challenge. But with NrXen smart tracking solution you can track your entire fleet from both your smart phone and computer.
Let's take a look at the product benefits.
In addition to automatic routing, planning, vehicle telematics(real-time tracking of all vehicles), vehicle maintenance and driver management our solution can benefit you in myriad ways:-
By providing durable and robust water proof solution with integrated battery that can work for several years.
By providing extra hooks for integrating additional sensors so as to provide application specific intelligence.
By providing stable solutions that can work efficiently even in harsh environmental conditions.
By facilitating storage of messages in places where mobile network is not that good and transmitting messages as soon as network is usable.
By setting up multiple Geo-fences which in turn ensures that your vehicle does not go beyond the designated zone without your permission.
By setting multiple 'Points of Interests' so that one can be intimated when the vehicle reaches a particular point of interest.
C. Smart City vehicle transportation system:
Premium electronic mapping provides excellent visualization of city transport vehicles in real time. Our mobility management solution helps urban transit agencies to:-
Track, locate and access their vehicles around-the-clock,
Monitor whether buses in service are adhering to their schedule, and assigned route
Custom displays at bus stops for real time information for passengers (in road map).
Trigger pre- recorded announcements for passengers (in road map)
Reduce safety concern, risk and unsafe driving behavior