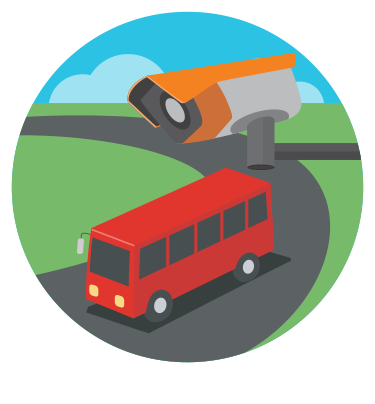 Risk reduction, public safety, and incident management are some of the many challenges that transit operators face today. It is here that new breakthroughs in digital technology come to play an instrumental role. Benefits of video surveillance solution are as follows:-
Enables you to track vehicle movement in real time
Live video streaming and digital video recording systems ensures safety for passengers and drivers.
Monitor on-board activity from anywhere
Cameras installed in school premises or school buses bring your children whereabouts at your finger tips. Our Video surveillance system acts as a third eye on your child and helps in identifying driver safety issues, vandalism, bullies, and student discipline problems.
Recorded video feed provide evidence for quick identification of the miscreant and serves as a critical deterrent for any kind of mischief. Concerned authority can immediately connect and take corrective action.
We work with our customer's to fully understand their requirement and provide a solution that gives the desired quality of recording, duration of storage, number of monitoring points of an asset, live/non live feed, for moving/static assets. We work with our trusted partners to provide the right solution for video surveillance.